International Kite Festival
Ever since 1981 kites from all over the world have been gathering here and flying over the beach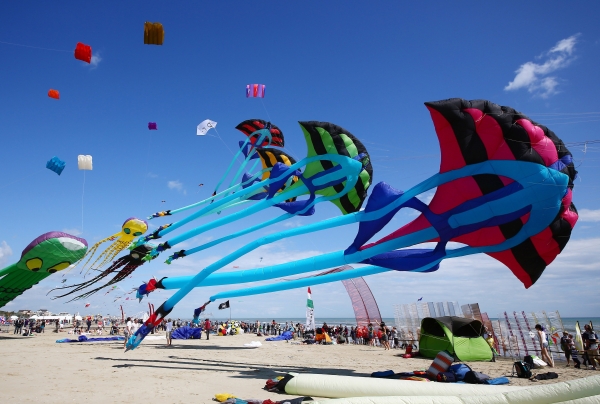 The International Kite Festival matches creativity and fantasy.
The event is rich in talents and original patterns. 
Do not miss the live concerts in the evening and the spectacular night flights which will add magic to this wonderful event suspended between the sky and the sea.
This festival will be further enriched by wind energy works and the "Kite Fair", a specialised market, one of the most important in Europe, and artistic and ethnic quality handicraft.
Stands and workshops will be available for learning the kite building technique. "Wind artists" from all over the world will be present.
Participating countries:Argentina, Australia, Austria, Belgium, Canada, China, Curacao, Philippines Finland, France, Germany, Japan, India, Indonesia, Great Britain, Israel, Italy, Luxembourg, Mexico, Nepal, New Zealand, Netherlands, Pakistan, Poland, Singapore, Sri Lanka, Sveden, Swiss, Thailand, Tasmania and U.S.A.
Guest of honour: United States - the Natives of America
When
From 21st April to 1st May
Luogo
Pinarella - beach
Information office
IAT Cervia
Torre San Michele, Via Arnaldo Evangelisti 4