Salt Festival
From 6th September, four days fully dedicated to Cervia's sweet salt.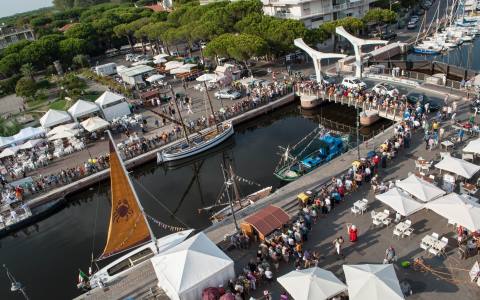 Although nowadays salt is one of the most common ingredients on our table, in the past it used to be so rare and precious that people used to call it 'white gold' because it was fundamental for the preservation of food.
Therefore it is easy to imagine how Cervia was linked with this product and with its over 800 ha of saltpans.
The purpose of this event is to remember and celebrate Cervia's past and 'dedicate' a celebration to the precious salt, re-enacting the past traditions and proposing various themed attractions: exhibitions, historical re-enactment of the traditional salt delivery, music and performances.
Package Preis
From € 315,00 per person
Package includes
double room in 3 star hotel in Cervia
4 nights, half board  
boat trip in Cervia's Salt Pan ( limitated places)
1 "A tutto sale" dinner  - Theme Menu with cooking techniques at the "Cervia's sweet salt" curated by the starred chef Piergiorgio Parini (limitated places)
salt pan under the stars (Friday) - evening dedicated to the observation of the starry sky in the darkest part of the salt pan thanks an expert astrofill help(limitated places).
Package does NOT include
Tourist tax to pay in your hotel and any service mentioned in "the package includes".
Reductions
children according to their age
Supplements
---
Valid
Valid until Sep 09, 2018